Russian language software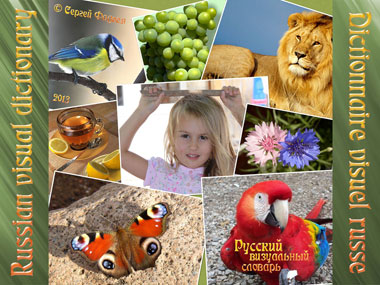 RUSSIAN VISUAL DICTIONARY
Elementary - Basic levels - (A1-A2).
Author: Sergey FADEEV, PhD
Version Russian - English - French
Welcome to our Russian Visual Dictionary!
When students begin to learn a new language there is a crucial need to develop a basic core vocabulary. Without this basic vocabulary, even day-to-day survival is very difficult. The Russian Visual Dictionary is perhaps the best means to bring a student this core vocabulary. 1,014 of everyday words, photos and 2,408 sounds are included in this Dictionary.
The Russian Visual Dictionary helps you learn Russian in a visual and accessible way.
A quick glance at the index is all it takes to connect images with words.
Explore the 30 major themes to access 1,014 words, phrases and photos and 2,408 sound files. Play by associating words and phrases with sounds. Itís a great way to test your knowledge or build your vocabulary.
The Russian Visual Dictionary is an extremely useful tool for all beginning students of Russian. Its colorful photos can help anyone learn Russian. It can be used as a self-study tool or as a lexical addition to any Russian elementary or basic learning course.
System requirements:
Computer Pentium/AMD 900 MHz, RAM 128 Mb,
Operating system MS Windows XP/7.0/8.0; Google Chrome or Internet Explorer.

You can command this program from the author.
Price: $US 25
You can download this software from our site after the payment